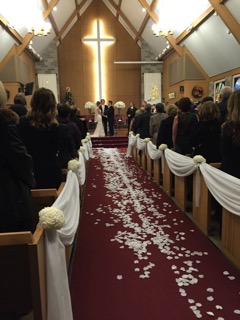 Congratulations on your decision to enter into marriage, a sacred commitment of love!  At Appleby United Church, we respect and appreciate covenant relationships. This is an intimate, exciting and important time in your life and we would be pleased to help you celebrate your love for each other in a faithful, holy way.
Weddings, like all services of worship, include prayers, readings, and acts of thanksgiving. Some couples prefer a very traditional service, while others choose more contemporary expressions of their worship and their commitment. When you meet with our minister you will have an opportunity to describe your plans and expectations and to work with him in shaping your service.
You do not have to be a member of Appleby to have a wedding here, but we would encourage you to come and meet the congregation.
Wedding services are held in the church. Our building dates back to 1950 and our sanctuary has wood beams, paneling and stained glass windows, lending itself to a very warm and welcoming environment. For a more intimate gathering, a small chapel is available with movable pews offering a quaint and personal space. If you are seeking off-site services, please discuss your ideas with our minister.
In addition to our minister, our church music director is available to play the organ or piano.
If you are considering Appleby for your wedding, give us a call at 905-637-2942 or email us at applebyoffice@appleby.ca. We would be pleased to check availability, answer questions re costs and our facility, and arrange for you to meet our minister.