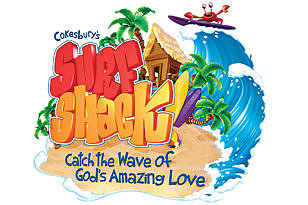 The theme of this year's Vacation Bible Camp is Surf Shack - Catch the Wave of God's Amazing Love. It will be held at Appleby United Church from 9 am to 12 noon, August 14-18, 2017 and is for ages 5 to 11.
Register Now!  Space is limited to 40 children!  Register your child on-line (click here), or download the registration form and mail it or drop it off at Appleby United Church, 4407 Spruce Avenue, Burlington, L7L 1L9.   Registration will end July 31.  Cost:  $15
What will your child learn?  
Your child will have tons of fun singing songs, playing games, listening to story time, doing crafts and cool science experiments, as well as enjoying a delicious mid-morning snack.
Daily story time lessons will teach:
Day #1 - God Creates through the creation story in Genesis 1
Day #2 - God Helps when Miriam cares for baby brother Moses (Exodus 2:1-10)
Day #3 - God Loves - The story of Jesus' own baptism (Matthew 3:13-17)
Day #4 - God Calms as he calmed the disciples during a storm (Luke 8:22-25)
Day #5 - God Sends - The story of Jesus encouraging the disciples through a shared meal on the beach. (John 21:1-17).
It will be a great time for your children as they learn about the belief that God created the Universe and that God still cares for all that God has made and asks us to care too.  If you have questions or would like more information, please call Rev. Allan or Tracey at the church office (905) 637-2942.
Teen volunteers are needed to help our children have a wonderful, fun filled week.  Volunteers need to be able to attend a 3-hour set-up/training session on Saturday, August 12 at 10 am (lunch will be served). High school volunteer hours are from 8:30 am to 12:30 pm daily from Monday August 14 to Friday August 18. Please register on-line (click here), or download the teen volunteer registration form and mail it or drop it off at the Church office.