Wesley's Christmas Store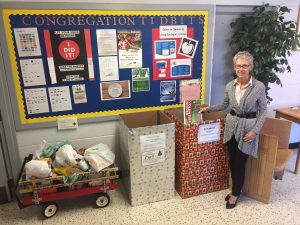 CHRISTMAS HELPERS will be asked once again to please consider joining our team of VOLUNTEERS FROM APPLEBY. Wesley is looking for help with setup in the Christmas Store and they will also be looking for shopping assistants. As always, your generous gifts for those less fortunate will be collected in the Christmas Box and delivered to the store by December 10th.
WESLEY has asked that $25.00 gifts be directed to any age group this year.
Please take notice of the Wesley posters on the Outreach Board with the new location and more
ideas for gift giving this year.
"Share the Warmth" Campaign
Please donate new pyjamas, socks, toques, scarves, gloves and personal hygiene products.
A collection box is in the church foyer. Items will go to Wesley Urban Ministries, Our Community Cares, and Halton Woman's Shelter.  Please place items in the Church hallway box by December 10, which is White Gift Sunday.
Kiva
Envelopes have been provided for donations.  Global Outreach will match your $35 donation to  a borrower according to your wishes.  Amounts of less than $35 will be combined with other contributors.  As loans are repaid, Global Outreach will make new loans to keep your money at work throughout the world.  Over the past nine years, Appleby members have contributed over $1,000 to people looking to create a better future for themselves, their families and their communities throughout the developing world. View Kiva brochure