Our Lenten Study is designed to "dig deeper" into that part of the United Church Creed which states
In life, in death, in life beyond death.
God is with us.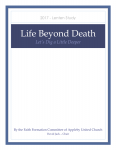 We are not alone.
The study refers to the Bible, philosophers, novelists, theologians, songwriters and scientists for their thoughts on life after death and the accounts of people who have near death experiences.
There are two discussion groups, each running for four weeks.  
SUNDAYS after church
WEDNESDAY evenings at 7 pm
If you missed the first sessions (March 12 and March 15), just come out, no worries.   Each week is independent of the others.
The study also lends itself to self study.  Just click to download the Lenten Study Guide.